We're on our 10th year of homeschooling, hard to believe!
Topics you can find on this page:
Our Current Curricula
General Topics:
Articles
Charlotte Mason
Learning Disabilities
Message Boards
Organization
Workboxes
Socialization
Sonlight and Related Sites
Other Curriculum Distributors
Used Curriculum Sites
Miscellaneous
School Subjects:
Art
History
Math
Music
Reading
Science
Spelling
Writing and Grammar
Our Current Curricula:
Here's what we're using this year (9th and 7th grades):
All About Spelling
--This continues to be one of the best homeschooling products we've ever bought. If you have a child who struggles with spelling, or one who is just starting out with spelling, this is one to check out.
My blog review
.
Essentials in Writing
--the author describes this program as a
Math-U-See
approach to writing, and we agree. This has been a great fit for my son, and I hope to start my daughter on it next year as well. She is finishing up
Easy Grammar
, and Karen Andreola's
Story Starters
.
The Mystery of History, Volume 2
--Great resource that integrates Bible and world history. Just my daughter is doing this. We're using the matching "Challenge Cards" from
Bright Ideas Press
, and a lot of
Sonlight G
books, plus a few
Winter's Promise
and some others.
Sonlight
--My son is using Core 100 and loving it this year! They do a great job of presenting multiple sides of an issue. They pick great literature, and we continue to enjoy the books!
Horizons Math
--as my daughter said, "Mom, it's got color, it's got jokes, it's got Bible references...what more could I want?" We've enjoyed this series for elementary math.
Math-U-See
--my son is using Algebra this year. This continues to be a good approach for him. Great multisensory program, and the explanations make sense.
Bible
--The Bible :-)
Apologia Physical Science
This is a great series. My son especially appreciates that Dr. Wile will present some arguments and the pros and cons from both sides of an issue.
Supercharged Science.
My daughter won a full year's curriculum at our regional science fair last year, and is enjoying all of the videos, experiments, and information that Aurora provides. I think she's done more experiments than all of our other homeschool years combined! You can read my
review
here.
Workboxes
--Here's my blog article with pictures. This keeps us organized and on track!
General Topics:
Articles
Grass is Greener Syndrome
- how to overcome curriculm hopping and when to switch
Help with Writing
- Editing Tips
Why Homeschool
10 Helps for a Homeschool Slump
When Family Disapprove
Stories of Hope
on my
Hope is My Anchor blog
.
Homeschool Oasis
Avoiding burnout, lots of ideas and over 100 home schooling & parenting articles!
Practical Homeschooling Magazine Articles/columnists
--what a collection of HS articles from well-known authors and speakers!
Bad Homeschool Day
Some good ideas for helping your home school to run more smoothly. One more thing I'd add to their list--undiagnosed learning disabilities. If you are struggling with teaching a child, this is an issue to look into.
The Myth of Superwoman
--a great article to read for all moms who try to do too much!
Planning the New School Year
Great article on Crosswalk.com
Homeschool Highlights
Dean and Karen Andreola's site, some Charlotte Mason articles.
Narration
: Great article by Karen Andreola!
Sonlight
homeschool helps
--videos, articles--lots of resources for new homeschoolers
Whole Heart Ministries
Newsletter by Clay and Sally Clarkson--go to their website to sign up.
Charlotte Mason:
I'm partial to many of the CM methods. If you haven't read about it before, hopefully these sites will help. I really enjoyed the book, For the children's Sake by Susan Schaeffer Macauley. See also Karen Andreola's site linked in the articles section.
4 real learning
: This site has a good overview of the CM method.
Learning Disabilities:
If you want to strike fear into a parent's heart, mention the idea learning disabilities. This area of education is misunderstood and often avoided out of fear. Did you know that many kids with learning disabilities also have areas of giftedness? Truly this is an area that parents should become educated about if they are going to meet the needs of their children. If you have a child who is struggling, appears "lazy," seems to remember things one day but not the next, struggles with attitude during school, then I urge you not to dismiss this possibility until you have done some research. Even if your child doesn't seem to have a true disability, you may learn some methods and approaches that will help you and your child.
The Mislabeled Child
An excellent resource! From their website: "to help you, as parents, teachers, or other child-care professionals to find the right names for the challenges keeping children from learning to their full potential." Includes real-life examples and practical tips for helping your child. If you are not sure whether your child has a learning disability, this book is a good place to start.
ADHD
Westfield Academy
"Dedicated to Helping Children Discover and Develop the Gifts They Have been Given." Also link for help with teaching ADD/ADHD and highly distractible children.
Sizzle Bop!
Where Highly Distractible People are Celebrated, Encouraged & Empowered. This is the place to come to if you are the parent of a highly distractible child or the spouse of a highly distractible mate. This is also the place to come if YOUare the highly distractible person.
HelpGuide
Lists symptoms & ideas to help both adults and children.
Dyslexia
What is Dyslexia?
Dyslexia Symptoms

All About Reading
All About Reading
consists of eight levels and begins with Level Pre-1, which gives your child the best possible start in learning to read. Both programs come with lifetime support and a 100% money-back guarantee.

All About Spelling
An incremental, multisensory program that takes the struggle out of spelling. It's been a huge blessing for our kids--check out my blog review.
Stealth Dyslexia
A great read for people whose kids don't struggle with reading but do struggle with spelling or math or vocabulary...
Vision Therapy
College of Optometrists in Vision Development
If your child struggles with reading, writing, or math, or with coordination, this site is a must-read.
Lane Learning Center
Vision Care Center
Message Boards:
All About Learning Press Forum
A language arts board sponsored by All About Spelling and All About Reading
Homeschool Chat
: "Get ready to be encouraged" Scheduled topics and open chat times.
Homeschool Library
A nice mix of homeschoolers on this board!
Sonlight Forums
A huge site & a wealth of information! You can discuss non-Sonlight curriculum here too.
The Well-Trained Mind
A great site for classical homeschoolers, although a lot of non-classical educators hang around too. I'm not a classical homeschooler, but I like a lot of the ideas I find on here. I've also enjoyed some of Susan Wise Bauer's videos on You-tube.
Organization
See also Organization/Homelife under Parenting Links
See also Workboxes (below)
Donna Young Printables & Resources
Organizing tips, downloadable forms--lots of great stuff here!
Manager's of Their Homes
I am not a "scheduler" by nature and I don't clock-watch most of the time, but this book helps me define & accomplish my goals. I appreciate Teri Maxwell's emphasis on prayer. I do make up a "schedule" but in reality I am flexible with it and tend to follow more an order of events. And unlike her, I need 9 hours of sleep or I burn out! I don't agree with all of their views but have gleaned some good ideas from this book.
Workboxes
I was hesitant to try these at first. Were they just for little kids? Would they be too much work and not enough pay-off? Instead, I found that they were a great asset to our school! I think of them as being a 3-dimensional schedule--they organize all of my kids materials (no more lost books!), hold me accountable for checking their work daily (well, almost! better than I used to be!), and give structure and flow to our day.
Our Workboxes
--Here's my blog with pictures of what we use and a description of how we use them.
Sue Patrick's Workbox System
--Sue Patrick is the author and consultant who popularized this method of organization.
There are tons of blogs out there, and yahoo groups with files of downloadable forms and ideas. I have read some experiences of Moms who jumped in and tried to change everything to fit the system--only to abandon it a few weeks later. I encourage you to use the system as you deem best fits your family--don't change what's already working. Identify areas in the flow of your day or in how you organize your materials or day that are not working, and then look for organizational tools such as workboxes that can help you address those needs. Only do a complete overhaul if you really need one, LOL! And even then, you may benefit from a gradual implementation of a new system.
Sonlight and Related Sites:
Sonlight Curriculum:
A wonderful literature-based program. We have used Cores Prek-5. My kids enjoyed the Prek books for many years (we even still have some of them!). Cores 3 and 4 were our favorites. Core 5 is very different, and while we liked many of the books, the style of the curriculum just didn't meet our needs and wasn't very enjoyable to us. With cores 1 and 2, and now 6, we used Mystery of History as our "spine" text. We plan to continue with MOH through high school. We will continue to use many SL books, though, because they are almost always favorites here!
Sonlight also has an amazing array of
homeschool helps
--videos, articles--check it out!
Paula's Archives
This is a great site for Sonlight support as well as articles, curriculum reviews (very informative), activity ideas for school-age and for toddlers...
Honeypot Hollow
Encouraging articles, curriculum descriptions, resource lists
Roads to Everywhere
: Ideas and Links for Supplementing Sonlight
More
Sonlight Blogs
Other Curriculum Distributors:
Rainbow Resource
I think their print catalog is easier to use than their site, I refer to it often. Reviews of almost 30,000 homeschooling items--if it's on the market, there's a good chance RR carries it. Great prices.
Timberdoodle
Just plain fun, wish I could buy it all up, LOL! Also great prices.
LaCelle Family Ministries
"We are a company that sells homeschool curriculum and books at reasonable prices with good service."
Used Curriculum Sites:
Please note: While I've never personally had any trouble buying or selling used, I know it happens. Be careful!
Places I've sold on:
Ebay
Homeschool Classifieds
I love this site particularly because all of the listings are organized--you can find whether someone is selling what you want so easily!
Veg Source
This site is HUGE. Categories are loose--by groups of grade levels & by curriculum/non-curriculum.
The Well Trained Mind
I always seem to have good luck on this site--and the search feature works well. Use the sub-forums--there is one "for sale" and one "want to buy."
Miscellaneous:
Happy Hands
This colorful poster will help you train your children to obey with respect, love, diligence, and a good attitude.
Four to Explore
Don't start with a search engine, start with 42explore! This web project provides "four to explore" for each topic. On each page you'll find definitions, activities, the 4 good starting points, and many more links and resources for the thematic topic.
Funny Moms
When you need a good laugh, check out these DVD's! It's My Homeschool and I'll Cry if I Want To! and It's My Homeschool Too!
School Subject-specific listings:
Art:
Artcyclopedia
Wow! Search by artist or by artwork
Drawing Tips
: Top 10 Mistakes Beginners Make
Glossary of Art Periods
Homeschool Arts
--free visual arts lesson site (in various mediums!)
Miller Pads and Paper
--hands down my favorite place to get art supplies--great prices, and they have an awesome newsletter too, with art lessons for your kids included, and sometimes contests and other information.
History
See also:
Sonlight
Mystery of History
"This everything you need for teaching Ancient Civilizations through the time of Christ, all in one book. Chronological, Classical, Complete. This is a truly unique and remarkable new product! Written for 4th - 8th graders but adaptable for the whole family." I appreciate the integration of biblical and secular history. I enjoy the
MOH yahoo email groups
(there's a group for each level).
Bright Ideas Press
This company created a literature-based program around the Mystery of History called Illuminations. We are not using their guides at this point, though I may use the high school guide. We are using a few of their recommended books, plus the challenge cards they created. They also have a
yahoo group
.
Christian Biographies
Lots of great info on Christian Heroes!
Math:
Graph paper
Great for math homework because you can choose the size, shape, and color of the lines, and it's convenient. We typically use the 1/2" grid with light gray lines. Just enough to help my kids keep their columns straight.
Baseball Math Game
Great game for addition and multiplication. Other games too!
Short Division
--I never learned this in school, but it's pretty neat, try it! Especially if you have a child struggling with long-division.
Kidzone
: Graded pre-made math drill sheets with cute winter theme graphics
Living Math
I didn't know whether to put this link under Charlotte Mason or under Math! You'll be amazed at how much math-oriented literature there is! Check out the "library" link for extensive lists. I recently learned that there is a
Living Math Yahoo Email Group
.
Youngzones Children's Literature
I am absolutely astounded at the volume of literature on mathematics! Not just counting--addition, subtraction, multiplication, division, fractions, probability...copy the list and check out these resources at your local library!
Music:
San Francisco Symphony Kids
Cute site, learn instruments & more.
Christian Guitar Resources
Extensive database of music and artists. You can download sheet music that is no longer under copyright.
Classical Kids CD's
--these are available at many distributors and are a wonderful way of incorporating music and story.
Beethoven Lives Upstairs
is my favorite (love the
Moonlight Sonata
), but they are all wonderful.
Classics for Kids
Listen to music and stories, plus learnabout composers and instruments
Worship Guitar
--dvd lessons for 9.5 to adult
Kid's Worship Guitar
--dvd lessons for 4-9 yo's
Reading: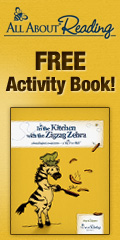 All About Reading
I would have loved this for teaching my kids to read! I looked and looked for something like their
Pre-1 level
when I was helping my oldest get readyto learn to read. If you aren't sure whether to start with Pre-1 or 1, here's a
checklist
you can use. Also check outthe All About Reading Short Story Collections:
Run, Bug,Run!, The Runt Pig, Cobweb the Cat, What Am I?,
and
Queen Bee
.
Here's a webinar on
how to help your child not be among the 34% that struggle with reading
.
Starfall
FREE online beginning phonics readers and games. My kids enjoyed this site, just be careful about some of the "rules" taught. When we used it they were teaching "When two vowels go walking, the first one does the talking," which really isn't a rule. It's only true about 40% of the time. But for a free interactive phonics site, there's some fun to be had here!
Reading Reflex
Great, inexpensive learn-to-read curriculum, when I would get it out for my son, he would say, "This is what I've been waiting for!" Rather than phonics and rules, it's based on phono-graphix--letters don't "make" sounds, they are pictures of sounds.
1000 Good Books List
Put together by 25 homeschooling moms, this is an awesome list!
Reading Level Assessment:
For a quick, general idea of your child's reading level, scroll about 1/3 down this page for a reading test.
Spelling:
All About Spelling
We've had phenomenal success with this program when so many others just didn't work for us. This is a great, multisensory, Orton-Gillingham-based approach that is easy to use and fun too. Check out my blog for more info:
Spelling Progress!

All About Homophones
This is a fun program that has games and independent worksheets to help kids solidify the meanings of various homophones. Over 100 worksheets, plus a listing in the back of over 1000 homophones. You might also enjoy playing with the
Homophone Machine
!
Science:
Classical Astronomy
- You can also sign up for their email newsletter for learning the seasonal constellations, keeping informed of upcoming sky events, and showing the historical relevance of astronomy to our culture.
Dinosaurs
Word searches, questions to answer, pages to color, a matching game, and more. It is based off the book that Science 2 uses, The Great Dinosuar Mystery and the Bible.
Mentos Experiment
You really need to watch the video footage on this, funny & great for kids too!
Supercharged Science
Great curriculum with more than 100 videos of experiments and all the information your children could want to learn about them, plus the ability to communicate with the author and more. Here's my
review
, check it out.
Tree ID
Cool site for identifying what kind of tree you are looking at--it asks you questions & takes you through step by step, very helpful!
Apologia
Dr. Jay Wile
This is his blog.
Writing and Grammar:
Essentials in Writing
. I came across this gem at the Cincinnati Homeschool convention last year. The author, Matthew Stephens, calls it a "
Math-U-See
" approach to writing because he uses short video segments to teach incremental lessons. This is by far the easiest writing program to use and implement that we've ever tried. It totally makes sense to my son, and it's laid out in a way that's easy to follow. No more tears for child (or MOM!). Great price too. The only negative is that the sound quality isn't the greatest. It's tolerable, but there's room for improvement. You can hear samples on his site.
Gift of Family Writing
Remembrance Press. Inspiring site! "...a delight directed, practical approach to writing that will teach your children how to communicate from their hearts, strengthen family relationships, and preserve a spiritual legacy for generations to come."
BraveWriter
"Live honestly, write bravely" is the motto on this site.
The Writer's Jungle
is a great LA resource for parents of kids in upper elementary and Jr. High (which could be modified for younger kids as well). This is a book to teach moms how to teach writing, rather than a curriculum. The author utilizes the style of writing I learned in college through Peter Elbow's
Writing With Power
. Great articles, discussion board, blog, and email reminders--almost a full-service LA! What a breath of fresh air! She also teaches online writing classes, and has a course for highschoolers/college prep. I have taken the
Copywork and Dictation
class (now called
Foundations
); it was very helpful for us, but unfortunately the price has doubled since I took it. I tried the
Arrow
--good ideas but not a lot of quantity. I suggest trying the sample first and buying just one or two to start with before purchasing a bunch.
The Un-Scope and Sequence
Great article for those teaching K-12 yo writers. If you're in the throes & frustrated, a must-read!
Jump In
The link to Jump In is on Apologia's site, where you can see a full sample chapter. However, it's available for $10 less from places like Rainbow Resource. I liked how it was laid out, but we needed things broken down a bit more than some of the assignments in here.
Grammar Guide
Excellent grammar site for questions.
Easy Grammar
Just like the title says, it makes grammar fairly easy to learn. Use the grade level book even if you haven't done grammar previously.
Visual Thesaurus
Type in a word & see a visual "word tree," very cool!
Literary Devices
Literary Devices
Literary Terms
This site has an EXTENSIVE list of terms.
Handwriting
Startwrite
We used this for all of our handwriting in K, I loved being able to customize my own pages, and my kids improved a lot through tracing.
In later years we used
Handwriting without Tears
and
A Reason for Handwriting
. I especially like
HWT Can Do Cursive
because it incorporates some grammar and some exposure to Greek and Latin roots.